Keeping Bed Bugs Out Of Your Portsmouth Home
Getting bed bugs in your home may seem like a long shot, but the truth is that these pests have been a growing problem in recent years, and they continue to infest homes and businesses around Portsmouth on a regular basis. Although they aren't known to be dangerous, bed bugs do bite, and they also cause a lot of stress as you try to figure out how to get rid of them.
If you think you have bed bugs in your home, don't wait to find out for sure. Ohio Pest Control has been serving Portsmouth and the surrounding areas for over 50 years. We use safe, effective methods to fully eliminate bed bug infestations in homes and businesses throughout our service area. Bed bugs will not go away on their own, but with Ohio Pest Control, you'll have the experienced bed bug control you need to get rid of them.
Our Bed Bug Control Offerings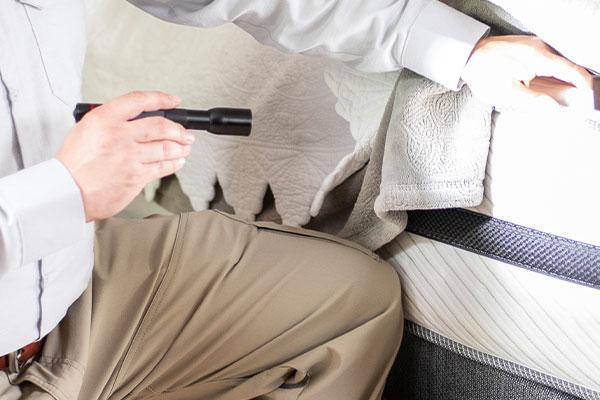 Inspection
Performing a bed bug inspection before treatment is a vital part of your bed bug control treatment. Not only does it allow us to make sure you have an active bed bug infestation before we treat, but it also allows us to walk you through the process and explain what you must do prior to treatment.
During the inspection, we'll inspect all beds, furniture, and each room, looking for bed bugs, eggs, feces, and other signs of activity. If we find that you have an active bed bug infestation, we'll explain what you need to do to prepare your house before we return to treat it.
Our bed bug inspections do have a fee associated with them, but it is deducted from the final cost if you continue on with our treatment.
Treatment
At Ohio Pest Control, we use safe, proven heat treatments to eradicate bed bug infestations. Heat treatments have several benefits over conventional treatments:
They are eco-friendly, requiring no chemicals.
They work in just one treatment.
They kill bed bugs in all stages of development, from egg to adult.
On the day of your treatment, you'll need to leave your home for most of the day. Typically, a treatment takes about six hours to perform. We'll bring heaters into your house, set up the equipment, then raise the temperature in your home to around 140 degrees. This temperature is known to be lethal to bed bugs but safe for your household items.
Once the treatment is complete, we'll remove the equipment, and you'll be allowed to return to your house. We use unmarked trailers to transport the equipment, so our treatment is discreet.
Follow-Up
If you spot any bed bugs within 48 hours of our treatment, we'll return to your home to decide what further action is necessary. This revisit is rarely required because our heat treatments are highly effective at eliminating a bed bug infestation in its entirety.
Say Goodbye To Bed Bugs
No one wants bed bugs getting into their house, but anyone could end up with a bed bug infestation because of the way they travel. If you suspect they're in your home, contact Ohio Pest Control right away. Our methods are highly effective and safe for your family. Say goodbye to your bed bug infestation with the help of Ohio Pest Control.
Learn more about our home pest control and commercial pest control services.

Schedule Your Free Inspection
Complete the form below to schedule your no obligation inspection.