Keeping Pest Birds Off Your Portsmouth Commercial Or Government Property
Birds may be nice to watch, but they can cause major problems when they try to move onto your building. First, they are a nuisance. If you have employees or customers trying to come inside, and pigeons or starlings are filling the walkways or dive-bombing them, it's going to cause problems. Second, their feces carry pathogens that can cause illnesses. It is also highly acidic, which can cause damage to the areas where the birds are spending time. Finally, if birds are nesting or roosting on or in your building, they will cause substantial damage to the building itself.
Don't let birds become a problem for your Portsmouth business. If you have problem birds, you need to protect your Portsmouth, OH facility and your employees and customers from them. Ohio Pest Control offers bird control services to get rid of problem birds safely and humanely.
Our Bird Control Offerings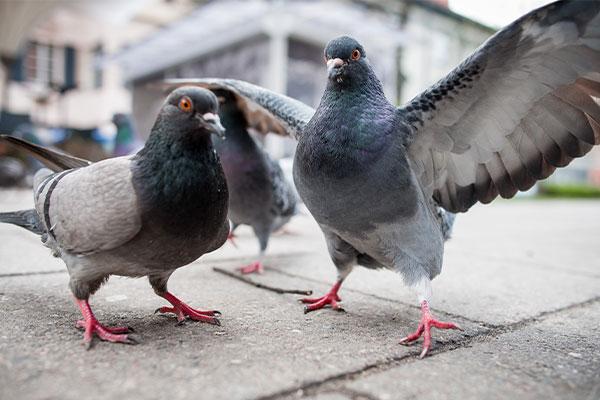 Free Inspection
Our bird control services require an initial inspection, which we offer free of charge. This inspection allows us to identify the types of birds on your property and where they are spending their time. With this information, we'll develop a treatment plan that will be most effective for your particular situation.
Treatment
At Ohio Pest Control, we are experts in several methods of bird control. We customize your treatment to provide the services that will best meet your particular needs.
We offer the following services:
Ovulation control: This method prevents birds from reproducing, which lowers bird populations safely and humanely.
Netting: By installing netting in certain areas on your building, birds cannot access these areas, so they look for a new place to roost.
Spikes: We can install bird spikes along roof ledges, window sills, and other areas where birds tend to land. Once this area is no longer accessible, they'll move on.
Deterrents: We offer installation of other bird deterrents as well. These safely and effectively stop birds from nesting and roosting on your building.
Stop Birds From Causing Problems On Your Portsmouth Property
Pigeons and starlings can cause a lot of problems when they take over your Portsmouth property. Get rid of them safely and effectively with bird control from Ohio Pest Control. With over 50 years of experience treating pest problems, we have the expertise you need to get the birds off your property. Contact us today to schedule a free inspection.
Learn more about our home pest control and commercial pest control services.

Schedule Your Free Inspection
Complete the form below to schedule your no obligation inspection.