Trusted Pest Control In Quincy, KY
The community of Quincy sits along the Ohio River and is regarded for its friendly nature. Residents here have access to locally-owned stores, neighborhood centers, and waterfront access. Quincy is also well located with lots of hiking trails and nature preserves within reach. There are, however, lots of opportunities for pest problems to arise due to seasonal conditions, and when these occur, Ohio Pest Control is here to help.
As a locally-owned business, we are experts in the Quincy environment and the pests that surround it. Our trusted Lewis County pest control combines decades of experience with cutting-edge technology. We provide timely service, free estimates, and treatment plans that are always customized to your needs. In addition to our proven work, we believe in providing the highest quality of customer support and building lasting relationships with the homeowners and businesses we serve. For more information on our offerings, call us today.
Residential Pest Control In Quincy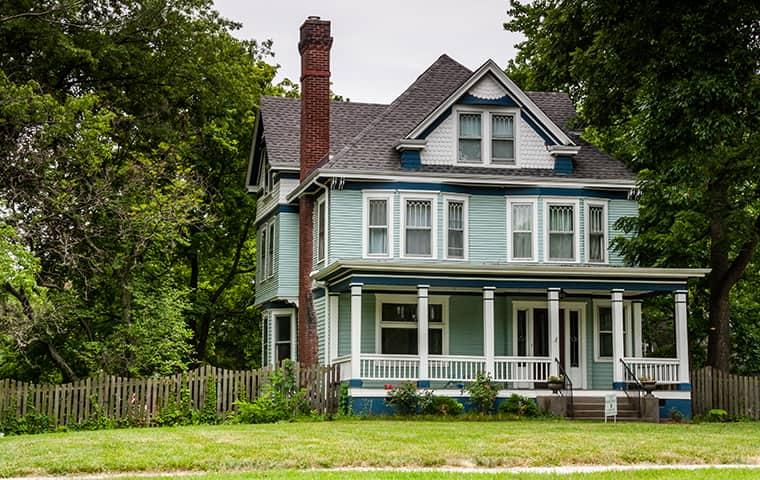 At Ohio Pest Control, we understand how scary and stressful dealing with pests can be for Quincy homeowners. Whether it's seeing a collection of ants loitering around the kitchen garbage or a suspicion of termite activity in your walls, don't waste time and money on DIY methods that can't effectively treat your issues. Our family-owned business has been caring for the local community since 1967 and we are dedicated to excellence to this day. Each household that we treat benefits from a treatment plan that is entirely unique and based on our findings.
Some of the methods that we use include granulating the yard, setting bait stations, and applying spot treatments. These all work in harmony to both exterminate current pests and keep future issues from developing. We also offer pest-specific services for termites, mosquitoes, rodents, and more. For more information on our residential pest control services, call us today.
Commercial Pest Control In Quincy
Pest problems can have very big implications for your Quincy business, whether that means a tarnished reputation or health risks for the community. At Ohio Pest Control, we work carefully to ensure that these situations never arise. Since 1967, we've been partnering with local businesses to create customized pest control solutions to fit their every need. Given our vast background, we're capable of working with restaurants, warehouses, schools, and more.
To begin, we'll inspect your entire property in search of current pest activity, entry points, and even problem conditions. We'll combine our findings along with your concerns in order to create a program that will target the issues at hand, and with routine maintenance, we can keep pests out of your property in a discreet and lasting manner. Our specialized services treat pests like bed bugs, termites, rodents, mosquitoes, and birds, so no matter what life throws at you, we'll be there to help. To learn more about how commercial pest control can protect your business, call us today.
Now You Can Have A Termite-Free Quincy Home!
Termites are one of the most costly pests that could invade your Quincy home at almost any time. They're responsible for approximately five billion dollars in home damage across the country each year and are a difficult issue to eliminate and prevent. Luckily, that doesn't have to be the case. At Ohio Pest Control, we provide homeowners with comprehensive termite control to keep your property safe.
Our process starts with detailed inspections that address hard-to-access areas like crawl spaces and basements. It allows us to understand the extent of termite damage as well as any conditions that could lead to an infestation. From there, we install the Sentricon® System with Always Active™, which is the #1 termite bait system in the country. This will infect existing colonies while also working to prevent future ones. We'll monitor these stations every three months in order to ensure a termite-free home. For more information on these services, contact us today.
Ant Prevention And Control Tips From Quincy Exterminators
Ant outbreaks develop quickly in Quincy homes and in order to deal with them swiftly, try these tips:
Store food securely. Ants are primarily after sweet foods but it's important to make sure that all types of meals and snacks are kept in airtight containers.

Treat water issues. Another factor in ant infestations is leaks, whether they take place inside or outside the home. Check faucets, pipes, and downspouts routinely and rectify any issues.

Aim for impeccable hygiene. Ants aren't fussy about where they find their meals, which is why it's important to dispose of expired food outside, clean up thoroughly after spills and crumbs, and not allow dirty dishes to pile up in the sink.

Seal up openings. To keep ants outside, fill all foundation gaps with caulk and insert weatherstripping around loose doors and windows.

Contact the pros. When it comes to preventing or getting rid of ants, the most effective way to handle the situation is with help from a pest control expert.
For trusted ant control, call Ohio Pest Control today.

Schedule Your Free Inspection
Complete the form below to schedule your no obligation inspection.