Trusted Pest Control In Russell, KY
Located along the border between Kentucky and Ohio, the small city of Russell is notable for its scenic views of the Ohio River. In addition to the area's landscape, Russell provides a high quality of life for residents with quaint neighborhoods, pizza shops, bakeries, and good public schools. When pest problems pop up, Ohio Pest Control is here. Since 1967, we've been the local experts that homeowners and businesses call for reliable pest control. In our quest for your complete satisfaction, all of our technicians undergo routine education and training and all of our services are customized to your specific needs. What this means is that when you entrust your property to us, we will treat you like family and always take the time to understand your concerns in order to best solve them. For more information on trusted pest control in Greenup County, contact Ohio Pest Control today.
Residential Pest Control In Russell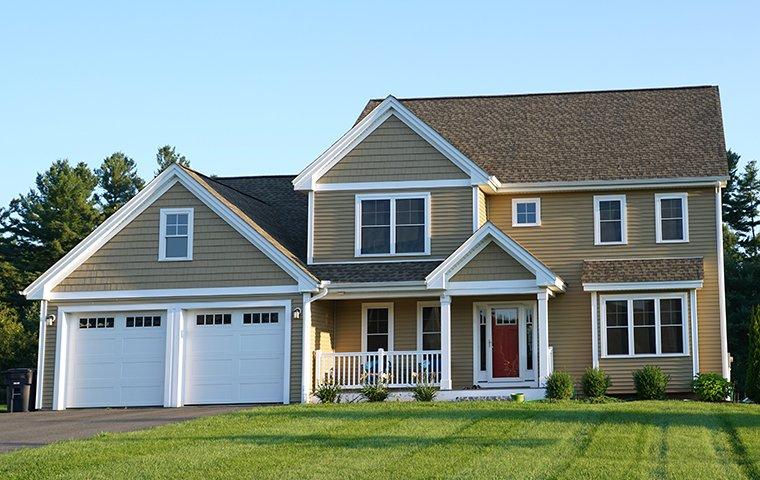 Your Russell home is where you come to relax after a long day, but when pest problems happen, all of that comfort stops. At Ohio Pest Control, it's our mission to make sure that local homeowners are protected from infestations throughout the year. The way we accomplish this goal is with attention to detail, experience, and the highest quality products on the market. All of our technicians are also routinely educated on the best practices.
Our process starts with a detailed inspection of your home where we look at everything from crawl spaces to the yard around your property. Once we've gathered our findings, our technicians will customize a treatment plan specific to your needs. Some of the applications that this might entail are setting bait stations, sealing up cracks and entry points, and laying granular treatments. We will put into place a follow-up schedule that is also within your budget to ensure pests don't return. For more information on residential pest control, contact us today.
Commercial Pest Control In Russell
Pests are a problem that simply can't happen in your Russell business. They have the ability to tarnish your reputation, cause health risks, and damage your property. In order to prevent these scenarios from taking place as well as address the ones that do, look no further than Ohio Pest Control. We've been keeping local businesses free from pests since 1967 and during that time, we've seen a lot. Today, we combine experience with the most current best practices in order to customize all of the treatment plans that we put into place. What this means is that the interior and exterior treatments that you receive will be highly specific to the issues that your property is facing while also working to keep them from happening in the first place. While every business is different, we typically suggest ongoing maintenance to ensure that infestations are never a problem. To learn more about the benefits of commercial pest control, contact us today.
Why Pro Mosquito Control Is The Way To Go In Russell
Keeping mosquitoes away from properties in Russell can be a tall task for residents if they don't have professional help. Limiting mosquitoes requires a keen eye for the conditions that exist on a property as well as putting restrictive rules into place for individuals. Things like changing the types of plants that are present, wearing clothes that were cleaned with unscented laundry detergent, and trimming back trees may be helpful, but they don't get at the root cause or allow people to live their lives.
At Ohio Pest Control, we help residents enjoy their properties again. The mosquito services that we provide are designed to keep these pests away throughout the season with continuous coverage and can benefit both homeowners and businesses as well. We use a combination of treatments to address adult mosquitoes and we use larvicide for the juvenile population. In addition to the applications that we make, we work with our customers to make recommendations for ways that their behavior can also help reduce the presence of mosquitoes. For more information on professional mosquito control that provides maximum coverage, contact Ohio Pest Control today.
Having Cockroaches In Your Russell Home Is Worse Than You May Think
The sight of a cockroach scurrying across the floor of your Russell kitchen can be one of the most frightening scenes as a homeowner. These relatively small pests bring some very big issues with them, all of which should be avoided at all costs. Through the body parts that they shed and the saliva and fecal matter that they leave behind, cockroaches are associated with very dangerous health risks. Those include diarrhea, cholera, dysentery, salmonellosis, streptococcus, allergies, and asthma attacks.
The health issues are not the only troublesome part of having a cockroach infestation. Because these pests are attracted to food and water, yet require very infrequent feedings, they have little incentive to ever leave your home. Females are also capable of producing upwards of 200 progeny each year, which is roughly six generations. This means that infestations are usually much larger than they appear on the surface. For more information on cockroach control, contact Ohio Pest Control today.

Schedule Your Free Inspection
Complete the form below to schedule your no obligation inspection.